A tattoo is a piece of art done on your skin that is the result of a lot of pain. Getting a tattoo is not so easy process and maintaining that is something that needs attention. What would be the point if your tattoo gets faded and that charm is lost? That's why you need the best aftercare like the best tattoo lotion for new and old tattoos immediately for the healing process. The role of moisturizers in the healing process is undoubtedly important. After the initial healing is done the skincare and tattoo care doesn't differ very much. Keeping the tattoo area moisturized is very important. Lotion in this case can be the best choice for the aftercare product. Choosing the best lotion can be a hard task to accomplish.
Recommendation Article: Best tattoo aftercare product – Lotion? Balm? Moisturizer? or Cream?
A list of some of the best picks in the lotion is explained here:
1. Aquaphor


This skincare moisturizing lotion would be the one to make it to the top. Aquaphor is considered a regular day moisturizing lotion that keeps the skin healthy and perfect for tattoos as well. It is the modern age alternative of petroleum jelly. Also, the low price makes it one of the popular choices.
Highlights
Great performance
Contains a great mix of the substances required for healing
Very much affordable
Aquaphor contains a mixture of lanolin, petroleum, and glycerin. These are the main three substances required for the healing process. It gives a good overall performance as a daily skincare product. Having the anti-inflammatory property is the best for freshly done tattoos. Also, the price is well within budget which gets it to the top easily beating others. The classic Aquaphor is still loved by the people that much.
2. After Inked Tattoo Moisturizer and Aftercare Lotion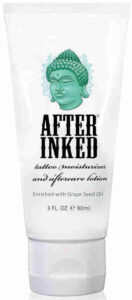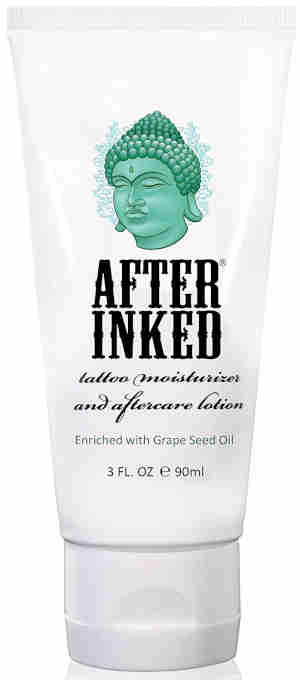 After Inked is one of the go-to options for tattoo care as it is made especially for tattoo care. No matter the tattoo type this Lotion and moisturizer is always there. This works on new and old tattoos perfectly. After Inked has a great reputation for keeping the tattoos crisp and holding the colors of old tattoos.
Highlights
100% vegan
Paraben-free, fragrance-free
Works on both new and old tattoos
After Inked Tattoo Moisturizer and Aftercare Lotion has the USP of being 100% vegan. Because of this, it is chosen by a lot of people. Also, being cruelty-free, paraben-free, fragrance-free is the main reasons for this being so famous. If you are looking for a light blend of lotion then this can the best in the market. Made of Grapeseed oil this lotion has no allergic reaction. After all these this has to be one of the top-ranked tattoo lotions.
Eucerin Intensive Repair Skin Lotion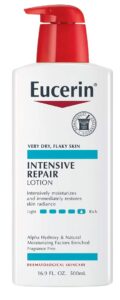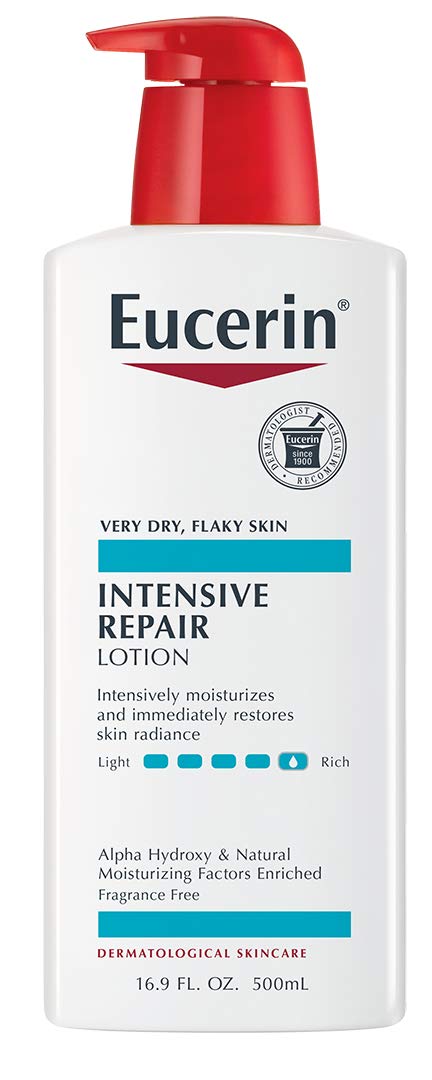 Eucerin is one of those products that you can rely on without any hesitation. Dermatologists recommend this and also tattoo artists have a similar say for this one. So you get covered by both sides if you choose Eucerin. Now Eucerin has a few lotions in the market and they might have different results. But Eucerin Intensive Repair Skin Lotion is the one we chose as it has the best results according to our observation.
Highlights
Dermatologists recommended
Best for sensitive skin
Affordable price
This lotion is very light-based for which it is absorbed quickly. It doesn't get sticky so the clothes are free of it. It is great for keeping the skin hydrated. One of the main components being Glycerin the lotion can hold the water content in the skin effectively. Also, it is non-greasy, so the pores are not clogged. The color retention is great and it is a prime option for sensitive skin. As it contains no fragrance and harmful contents it is so skin-friendly. Lastly, this can the best option for you if you have any delicacy with your skin.
Tattoo Goo Aftercare Lotion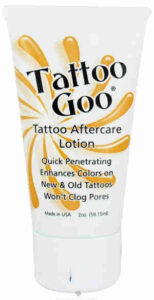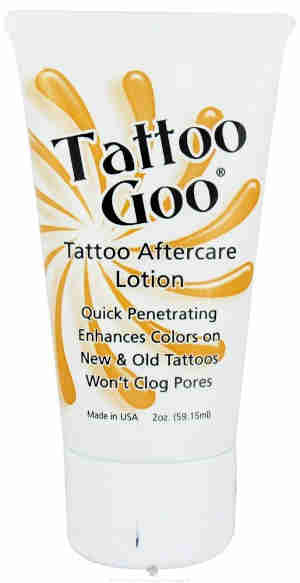 Got a colored tattoo? Now looking for aftercare products? Well, close your eyes and go for Tattoo Goo Aftercare Lotion. Though technically it is a balm-like product but it is thinner than a balm. Even if you're having your first tattoo, you must have heard of Tattoo Goo as the best aftercare for colored tattoos, which is also recommended by most of the established artists.
Highlights
Vibrant tattoo color protection
Great ingredients
Affordable price
Tattoo Goo uses some basic but high-class ingredients like cocoa butter, olive oil, beeswax, etc. These ingredients make it one of the great blends. Though it is a bit thicker than the usual lotion it won't cause irritation on the skin and even on the clothes. It has a light scent that might annoy some but compared to the scented lotions this is tolerable. If you have a colored tattoo before you should know how difficult it is to keep the fading away. Tattoo Goo works in new tattoos as well as old ones and brings back the vibrancy by regular use. Finally, it is highly recommended for colored tattoos.
Lubriderm Daily Skin Moisturizer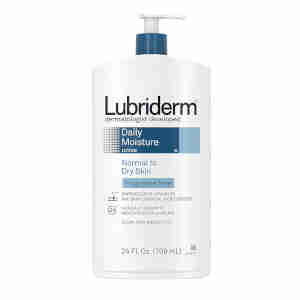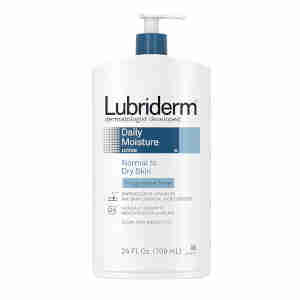 It is no surprise that Lubriderm is one of the top picks for the best lotion for new tattoos. Yes, Lubriderm is a dermatologist-recommended certified moisturizing lotion. Doesn't matter if your tattoo is a brand new one or it's old enough, Lubriderm protects it from dryness.
Highlights
Long term hydration
Certified body moisturizer
Very cheap
Lubriderm comes with a mix of all the required vitamins like Vit E and B5. Very thin and easily absorbed, this lotion works greatly keeping the tattoos hydrated for the long term. Essential lipids that it contains keeps the water locked in the skin for 24 hours. That's the mind-blowing USP of this product. The light fragrance it has might bother you but that's going to last only 10-15 minutes. Other than this is the best pick with the cheapest price tag around its neck. But you should consult your dermatologist if you have any skin complications. Though it is not yet reported allergic reactions might occur.
Aveeno Daily Moisturizing Lotion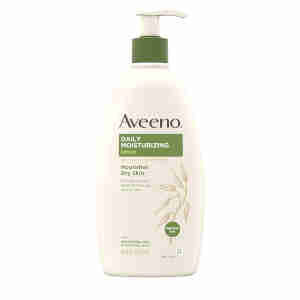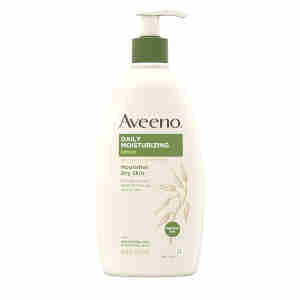 Aveeno is one of those gently blended lotions you would like to have on your shelf. It has a unique oatmeal formulation that keeps the skin moisturized for a long time and also protects the skin from bacteria and other infections.
Highlights
Long term moisturization
Can be used all over the body
Paraben and scent-free
Aveeno is the brand everyone knows for its moisturizing lotions. They are not specifically made for tattoos. This lotion has a natural composition that is paraben-free. This property makes it a top pick for most. Also, it doesn't have any scent that means the fragrance-free property is another positive side of this. The lotion is gentle on the skin and doesn't cause any irritation on skin and clothes. Usually, it is advised to use for 2-4 weeks after getting a tattoo. Using Aveeno as prescribed can have a great result in the case of color holding and shining of the tattoo.
Billy Jealousy Tattoo Lotion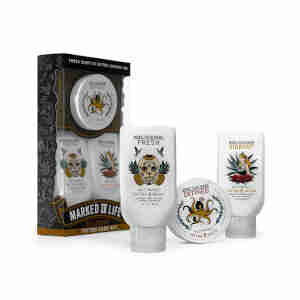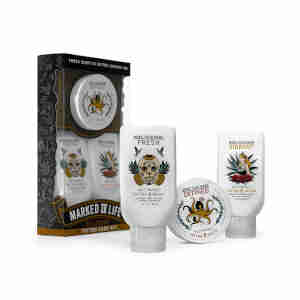 Billy Jealousy is another tattoo specialized lotion which is made for the protection of tattoo. It has been one of the leading brands in the tattoo aftercare market. The Tattoo Lotion is one of the best products of them. Using this lotion will not only keep the newly done tattoo in great shape but also will keep the skin healthy.
Highlights
Great ingredients
Protects from infection
Comparatively expensive
This Tattoo Lotion is one of the scented lotions that most people avoid. Though it has one of the greatest natural blends of ingredients. Shea butter, sunflower seed oil, jojoba oil, etc. are there in the lotion. Also, there is green tea leaf extract which works as one of the strongest guards of the skin. These substances are sure to keep your tattoo lively and vibrant. The fragrance that is present is because of lavender and rosemary oil. These essential oils play a great role in holding the hydration of the skin. Finally, it will keep the tattoo area free from itching, dryness, and other irritations.
Hustle Butter Deluxe Tattoo Lotion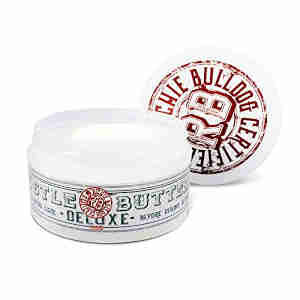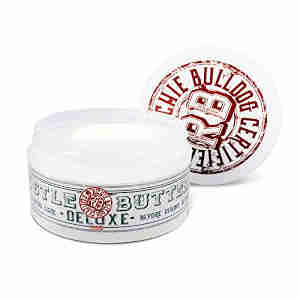 Hustle Butter Deluxe is one of the products that work on every aspect of tattooing. Being a numbing agent that is applied before the tattooing process to the aftercare, Hustle Butter does it all. It works for a quick healing process as well as gets a protective layer on the tattoo area to keep that safe. Being a 100% natural product, it has a 4.8 rating out of 5.
Highlights
All-natural
Great healing property
Expensive compared to others
Hustle Butter Deluxe might be the No.1 aftercare for some people. It is an all-rounder in the case of aftercare. It prevents bleeding, swelling and enhances the healing process. Also, it has protective powers from germs. After the tattoo area is healed it can be used as a regular moisturizer as well. It contains mango butter, shea, coconut oil, and green tea extract that make a great composition for all types of skin. As it is 100% vegan this can be used by people with skin complications.
F.A.Q
When should I lotion my tattoo?
You should start applying lotion to your tattoo when it starts to turn dry — not before. This generally happens after 2–3 days from the day you got your tattoo. Always wash and dry your tattoo with antibacterial soap and choose the appropriate lotion as well.