Starting as a tattoo artist what will be the most important thing for you? Anyone can guess that it's the machine you will use. When you are making a tattoo it is made with care and love. Any tattoo artist would want the best outcome of his skills on his client's body and the satisfaction of his client. But without the perfect machine, you can't get that. At a time like this, it can be very confusing to choose between so many options available at the market. Moreover identifying the perfect match according to your requirements can be very challenging. Buying the proper machine can get you the best of outcomes. On the contrary, the wrong machine can be the end of everything. That is why knowing the best tattoo machine brands can be the first step of a thousand steps.
These resources will be helpful for beginners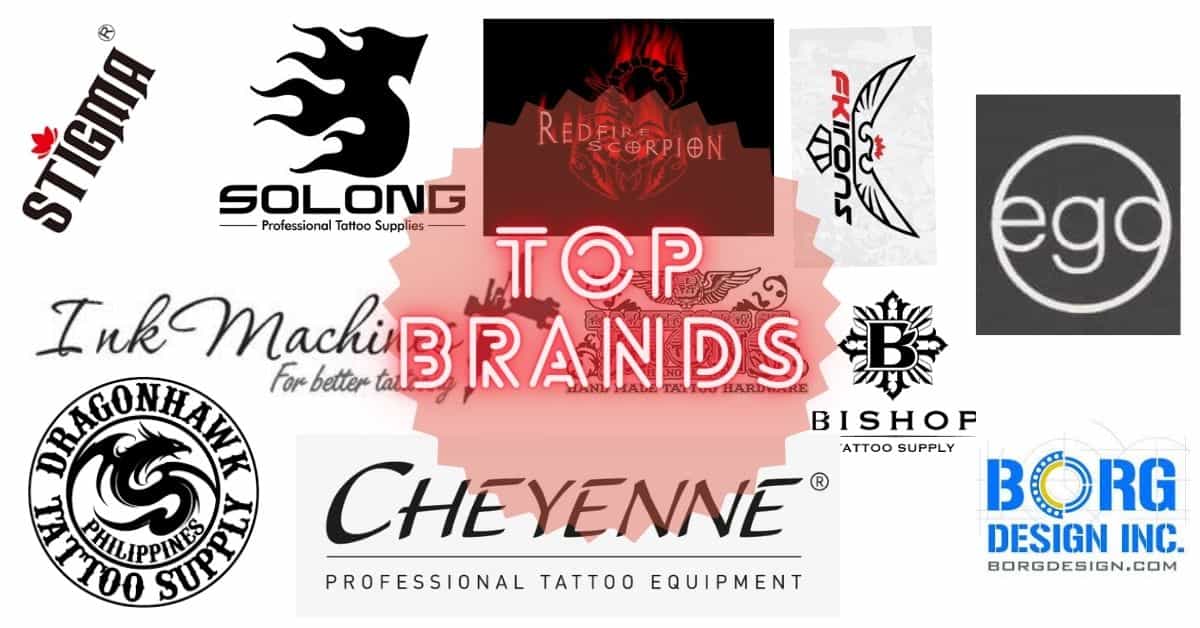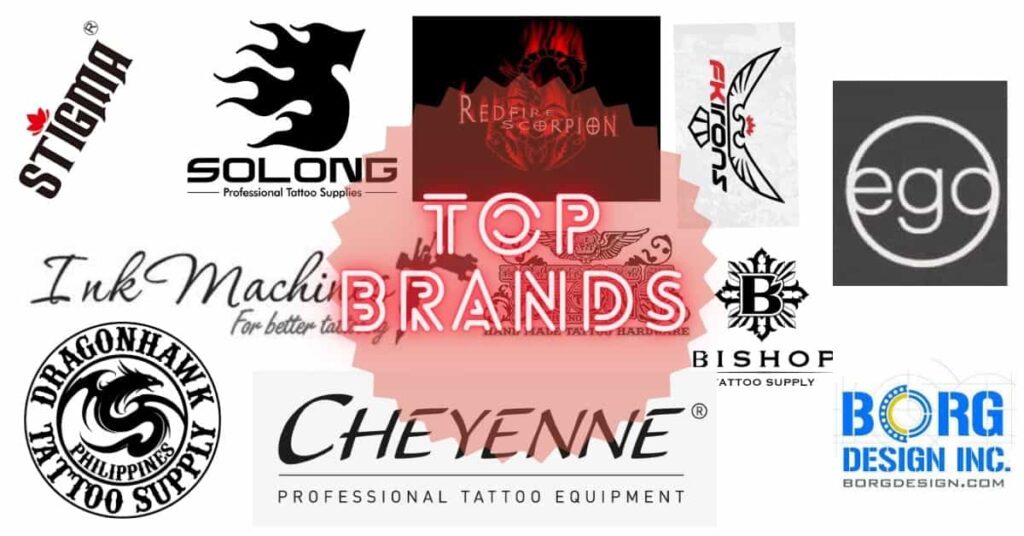 Nowadays, anyone can search for the best tattoo machines available. But the perfect match is the one that will get the art out of an artist the way he/she wants. To help you get out of this confusion we have analyzed the available brands. Hopefully, this will lead you to the brand you need as well as the type of machine you want.
1. Cheyenne
When someone talks about Cheyenne, the first thing that comes to mind is German quality. Starting in 2006 which is not what you can take as an old brand, Cheyenne made it to the top of the makers. With the innovative and award-winning design, Cheyenne always takes care of hygiene. Moreover, they produce some best quality tattoo kits like the grip of the machine, needles of different varieties and configurations, and others. Their machines are built with Anodized Aluminum. This Berlin-based brand took the industry being the first-ever single cartridge user. One of their latest innovation is the pen-style machine. It doesn't matter if you are a beginner or a veteran, Cheyenne has something great in store for you. A detailed review of Cheyenne is given in this article.
Positives
They maintain Hygiene and safety strictly
Low vibration
German quality
Wide range of designs
Negatives
Comparatively expensive
Overheating in long-period usage
Brand Highlights
German quality
Innovative design
Wide range of accessories available
High price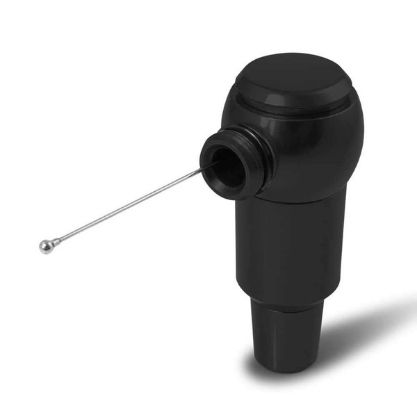 Cheyenne Hawk Pen:
Cheyenne is the pioneer of pen-style rotary machines. Their Hawk Pen is the machine that is the new generation of rotary tattoo machines. The handy shape looks like a pen which allows the artists to work on delicate designs with precision. The DC motor runs with very low vibration. This is the best part for artists with carpal tunnel syndrome. Lightweight and making less sound than other machines makes the Hawk Pen is one of the most preferred rotary machines. The 3.5 mm stroke makes it easier for lining, detailing, shading even filling. Also, the patented cartridge technology helps to change the needle from 56 different configurations.
Features
Low vibration and quiet
Innovative design and lightweight
Great for lining and detailing
---
2. FK Irons
Gaston Siciliano, a tattoo artist and also a design engineer started the company named FK Irons in 2007. Being a new company in this industry FK Irons did not stay behind the line. They came with the surprise of their first rotary tattoo machine Sektra Halo. This was the heroic entry anyone would imagine as this machine is still recommended by tattoo artists around the world. They also proved their worth with the Spektra Xion Pen as it showed their design, innovation, and craftsmanship to the world. Also, their products are made of aircraft-grade Aluminum which is anodized for prolonged durability. Gaston is an experienced tattoo artist who kept comfort in mind for the artist. Because of this FK Irons comes as the first choice for most artists.
Positives
Lightweight machine
Innovative designs
Lifetime warranty
High-quality products
Negatives
Does not provide needles
Comparatively expensive
Brand Highlights
Silent during voltage change up
Lifetime warranty
Ergonomic design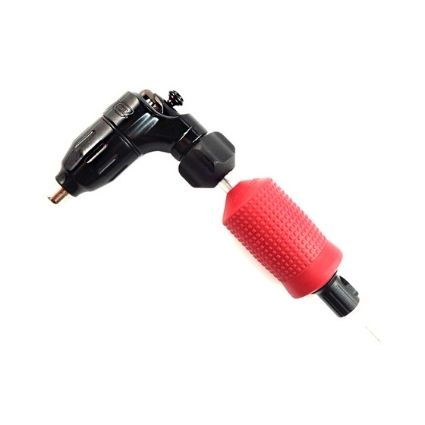 FK Irons Spektra Edge X
FK Irons or Fallen Kings Irons is known for its innovative design as seen in Spektra Edge X. The conventional back stem-style and screw-on style cartridges make it appealing for professional artists. Also not requiring any additional cartridge adapter is another positive aspect of the design. The interchangeable stroke wheel is not required for this one, as the adjustable stroke varies from 2.8mm to 4.2 mm for lining, detailing, shading, and every single part needed. The least friction results from the slide bar and slider for the best outcome with a self-lubricating slider and ball-bearing stabilization. The solid piece of 6061 T6 aircraft aluminum and the patented HexDrive mechanism make this machine outstanding as it allows to removal of the motor.
Features
Outstanding performance and precision
No need for a cartridge adapter
No need for a stroke wheel as the adjustable stroke is built-in
---
3. Solong
This is the company that started in 2008 in China, a country that is technologically advanced. Without any tattoo artist working in the back end, this is the tattoo company that provides machines all over the world. They are very famous for their tattoo kits and have a wide range of products related to tattoos and all you have to choose from. They can get you tattoo machines that range from cheap to affordable. Solong tattoo machines are made of stainless steel. However, they are very focused on customer satisfaction and because of this, they might ask about your review. It's a strategy to improve their products and get rid of errors. They produce rotary machines, coil machines, and pen machines. You can choose from 24 different machines ranging from practice machines to professionals.
Positives
Affordable price range
Variation of products
Machines available for practice
Negatives
Customers often complain about kits
Does not have any solid tattoo background
Brand Highlights
Cheap price
No artistic background
Machines available for all level of experience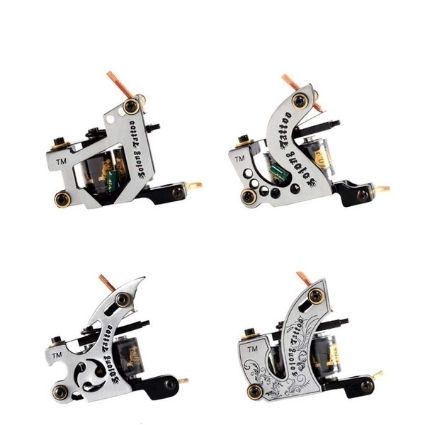 Solong Complete Kit for Beginners
At this time, Solong has made its presence clear in the industry. Their beginner's kit is popular everywhere as the price is very low. Also, it comes with four distinct tattoo irons each with a different specialties like shading, lining, and filling. Also, they provide silica skin for practice.
Features
Cheap price and 6 months warranty
Comes with everything needed for the beginner including ink and silica skin
They provide four tattoo irons for different purposes
---
4. Dragonhawk
If someone wants great quality at and cheap price Dragonhawk is your knight in shining armor. When two great tattoo artists decided to start the company in 2001, their primary goal was to supply affordable coil tattoo machines. Dragonhawk started their journey in Hong Kong but soon after they took over the tattoo machine market and started producing machines in the USA, Europe, and China. With the exponential growth of their business, they went on top of the brands, and now they are one of the leading machine makers. After all, they conquered the market once again in 2012 when they released Compass, the coil tattoo machine. However, space aluminum carbon fiber, or cast iron made machines are very durable. Having said all that the best part about Dragonhawk is the Japanese motor with its complex gear system that works very efficiently.
Positives
Usually comes with the kit
Full money-back guarantee
Lightweight and quiet
Provide beginner machine
Negatives
Issues with power supply
Customers complained about a defective product
Brand Highlights
Great quality with reasonable price
Japanese quality motor
Production all over the world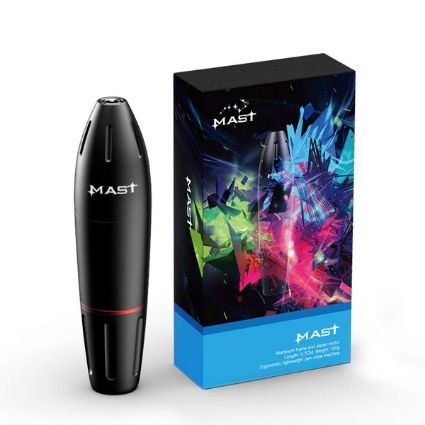 Dragonhawk Mast Pen
Dragonhawk Mast Pen is one of the most popular machines on the market right now. It comes with a set of required components. However, this attractive little set comes without ink. This whole set is very much affordable for the artists as well as the beginners. The pen is only 11.7 cm long with 120 gm weight. The stroke range varies from 2.8 mm to 3.5mm. Japanese motor makes the efficient performance. It has very little vibration or noise. It can be one of the best choices for lining and shading.
Features
Affordable price for the whole pack of tools
Very low vibration and noise
Lots of accessories available
Great control
---
Bishop
Franco Vescovi, a veteran tattoo artist with 25 years of experience in the tattoo industry once decided to make tattoo machines that can get out the full potential of the artists. So he started the brand Bishop. Not only did they redesign the machines but also they wanted the machines to be easy to handle. That's the reason Bishop produces pen-style machines for beginners. But the most famous of them is the rotary tattoo machines. Even they are so popular that the brand is also known as Bishop Rotary. Franco did not compromise with the quality from the very beginning. That's why Bishop uses parts from the best possible sources. Swiss motors with German bearings and Japanese medical-grade polymer plastic covered in aircraft-grade aluminum form a Bishop tattoo machine. Another side of this brand is the design and look. Bishop is not just stylish its design is appealing.
Positives
Comparatively lightweight
1-year warranty
Top-quality product
Negatives
Brand Highlights
Best rotary machine
Best quality machine parts
Experienced artist started the brand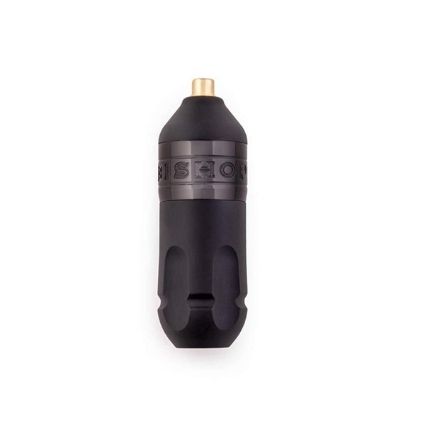 Bishop Rotary WAND
Bishop Rotary WAND is a pack of three machines; a liner, a shader, and a packer. This set was launched in 2019 but it is still one of the best additions in the industry.
The Shader: This one is made with gunmetal. A brushed Faulhaber motor with a fixed 3.5 mm stroke is perfect for shading. It creates a softer hit on the skin for reduced trauma and enables it to work for long times.
The Packer: This one is made with a brushless Faulhaber motor with a fixed 4.2 mm stroke and allows custom winding. It is designed with a genius mind as the torque and speed can be increased for color packing and realism. Magnets are used to generate power in the brushless motor which provides a longer working time without overheating.
The Liner: The liner comes with the same setup as the packer. It has a fixed stroke of 5 mm. The liner is excellent for working with dots and conventional lines.
Features
95 x 30 mm dimension which is very handy to work with
Made of aircraft aluminum
1-year Bishop warranty
---
6. Stigma
When there were many companies trying out their machines between the late 90s and early 20s, Stigma hit the market. With 20 years of experience, Artemis Rosakis invented a simple way to control the 'give'. It is the pressure with which the needle hits the skin. Artemis wanted to create machines that are not only ergonomic in design but also will get the best outcome of the hard work. Stigma is considered the best for detailing and fine-working complex designs. The German brand uses Swiss motors. They created the rotary machines that compelled the artists to use rotary machines over coil machines.
Positives
Affordable price
Beginner's kit available
Lightweight
Negatives
Complains of power supply
Some customer questions the penetration power of the machine
Brand Highlights
Pressure control of the needle
Ergonomic design
One of the earliest brands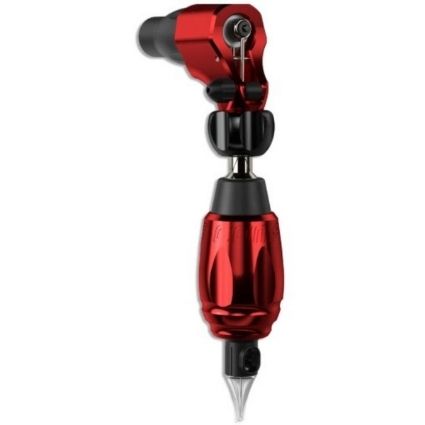 Stigma-Rotary Shot
Stigma Rotary Shot is the latest release by them with some extraordinary features. This model hit the market as it is the only direct-drive tattoo machine. It means the needle bar is directly connected to the cam wheel. Forced stay-up needle technology makes the machine stop when the needle is out of the skin. This provides great safety to the skin. Also, the stroke length can be adjusted without any hasty change-up. Without using any tools or exchanging any part the stroke length can be set just by rotating the motor. Stroke varies between the range of 3-4 mm. The motor used in this device is Swiss made 6 Watt Coreless with 2mm shaft and 2 preloaded bearings
Features
Compatible with all major brand cartridges and needle
Weighs only 115 gm
High-performing motor with direct drive technology
---
7. Ego
Started in 2012 in the UK by the famous artist Bez, Ego is another renowned brand in the tattoo industry. Bez was feeling that he was not getting the exact machine that would let him concentrate on the tattoo rather than the machine handling. So he wanted to make a lightweight machine that would reduce the pressure on the wrist. Keeping this goal in mind Ego produces machines made of plastic. You can easily compare the weight difference with other machines now. Bez also invented the unique power triangle system. This lets the artist change the power mode so that the machine can be used for lining and shading. They also produce machines that are made of aircraft-grade aluminum for those artists who still like the classic machines.
Positives
Lightest available machine
Triangular power system mode
Low price machines are available
Negatives
Machine quality is not convincing in some cases
Customers complained about the power supply
Brand Highlights
Lightest machine
Lining and shading mode available
Average quality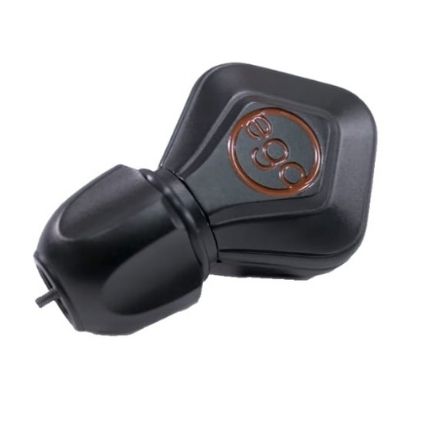 Ego Polygon
You should already know that the Ego is the maker of the lightest machines. Their design is ergonomic and good for the wrist of the artist. Ego Polygon follows the same path from R12 and R12 Plus and changes very little. Polygon is the smallest machine made by Ego. It is made of aluminum and weighs so little. 65 grams or 55 grams without the vice connector, this is clearly one of the lightest available machines. The motor used in Polygon is an enclosed brushless Faulhaber motor that has no start-up delay. Perfectly straight, true linear motion makes it unbeatable in case of precision as no sideways vibration is felt. Polygon has seven main and nine disposable bars. Each of the bars offers a different give indicated by color. The give can be set to soft, medium, or hard. The main bars offer hits without any give.
Features
Maintenance free
Compatible with all cartridge type
3.9 mm stroke
---
8. Ink Machines
Ink Machines is a Swedish company that is one of the brightest stars in the tattoo industry. But mostly it is known for the Dragonfly series is created. Dragonfly is a line of machines that became so popular that people often confuse the brand. Made for professionals, this Swedish brand ensures the quality of the product. The finest quality machines are produced with locally made motors and Japanese bearings. Ink Machines produce their devices under the close supervision of experienced tattoo experts. Made with aircraft-grade aluminum, these machines are a sign of reliability and durability.
Positives
Great quality machines
Unique and ergonomic design
Low vibration
1-year warranty
Negatives
Made for professionals
High price
Brand Highlights
One of the best quality machines
Innovative design
High durability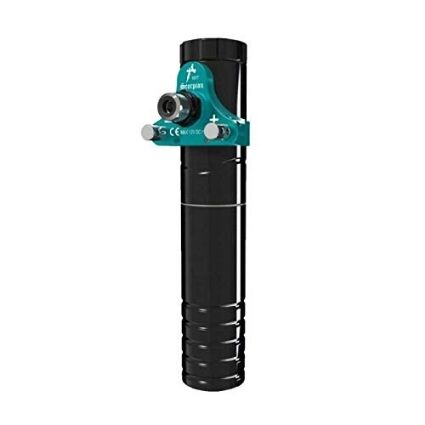 Ink Machines' Scorpion Pen
If you have heard of Dragonfly and Stingray then you must know the genius brains on Ink Machines. Scorpion Pen is the latest release of this brand with a very stylish design and over-the-top performance. The smooth contactless magnetic needle drive system incorporated in this model provides swift change between soft and hard keeping the vibration very low. This approach also helps to reduce the trauma to the skin. The Scorpion Pen is available in different colors. The 100-gram machine is equally balanced and designed to be used with a disposable grip. Moreover, any cartridge can be used in the Scorpion Pen.
Features
Stroke length of 4 mm
Extremely low vibration
High durability
Minimal skin damage
---
Baltimore Street Irons
Baltimore Street Iron was established by Charles Trey Freeland. Trey is an experienced artist who has been making machines since 1996. But the brand Baltimore Street Iron made it a bit late in the industry. This Pennsylvania-based brand came out in 2007. Trey made the machines with bronze, steel, and cast iron. The best thing about them is every part of the machine is tested individually and then the machine. So it is ready to use as soon as it is out in your hand.
Positives
Affordable price
Handmade parts
Negatives
Brand Highlights
Great quality control
Great performance
Handmade machine
Brand Highlights
One of the best quality machines
Innovative design
High durability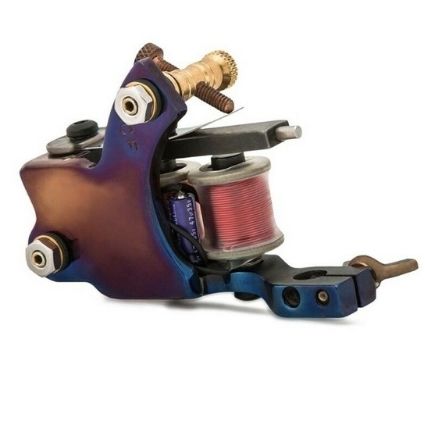 The Modified Walker Liner
The Modified Walker is a compact, adapted version of Walker-style frame machines. It is handmade in the USA. The Modified Walker is set up as a liner machine with 47uf 35v capacitors, allowing the machine to operate a bit slower. This gives more control to the artists. It features brass hardware and a sturdy 1018 steel frame that is been silver brazed. Also, hand-polished, heated, and oil dipped. The Modified Walker also features a wingnut rear binder and thumbscrew. It has a hand-cut one-piece feeler gauge screw and 8 layers of 1-inch coils.
Features
Each and every part is handmade
Great control
Steel frame which is highly durable
---
10. Borg Design
Borg Design is a company based in Hudson, Massachusetts. They make both rotary and coil machines. They are famous for lightweight machines. As the brand has a unique approach to design. In addition, They make the machines with a single piece of aluminum. Because of this, the machines are lightweight and well-balanced. However, there's a twist with the company. If you want to buy a machine directly from the company you have to be a professional artist. You have to show the credentials. But that does not hamper the business as artists love these machines. Each of the machine parts is hand-made in the Borg's workshop, doesn't matter if it's the 8-wrap coil or the silver screw. Finally, the best part is, that they can get you a customized machine to your requirements. They will set your slow or fast needle speed for lining and shading purposes.
Positives
Hand-crafted
Lightweight
Can be customized
Negatives
Does not sell to everyone
Not available for beginners
Brand Highlights
Balanced machines and lightweight
Made for professionals
Can be personalized according to need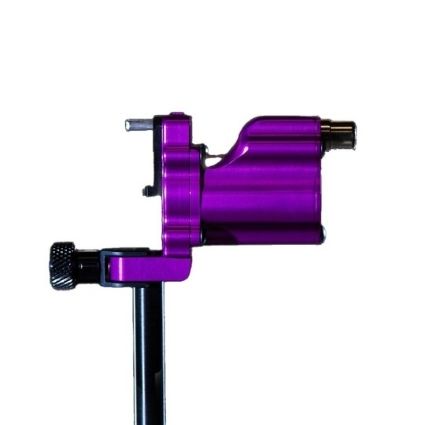 Rebellion Rotary
Borg is well known for its custom-made machines. They customize their handmade machine according to the artist's needs. Rebellion Rotary is their finest release. Available in three different stroke lengths; 2.5 mm, 3.5 mm, and 4.2 mm. Made out of aircraft aluminum. However, this powerful giant weighs only 76 grams. This rotary tattoo machine has an extremely smooth design. There is virtually no vibration, and it runs very quietly. The well-balanced design provides help preventing the artist from having fatigue issues. However, it has plenty of power and will push over 23 mags for color packing and then just as well run smaller liner setups for the delicate work. This one machine can do it all. All components for the tattoo machine are made in our machine shop in Massachusetts.
Features
No vibration or noise
Lightweight
Can be customized according to the artist's requirement
---
RedScorpion
Red Scorpion is a famous German brand. They are famous for their coil machine. It is made with CNC-machined aluminum alloy and a Japanese motor. The motor quality allows great energy efficiency. These machines run on 3.5-5 volts. They have stroke lengths of 3.5mm. In addition to that, the machines come with a power cord, grip, and needle cartilage. But these machines weigh only 3.53 ounces. Last but on least, They provide 3 month's warranty for each machine.
Positives
Cheap price range
Average quality
Good customer review
Negatives
Too much vibration
Very loud
Electrical problems reported
Brand Highlights
Better with the coil machines
Light weight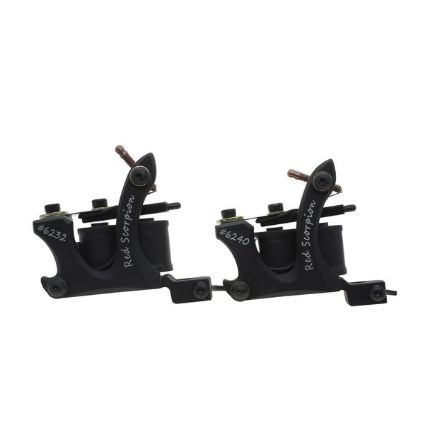 RedScorpion Rotary tattoo machine gun for liner and shader
The CNC-machined aluminum alloy used in this machine makes this machine different than others. Also, the Japanese motor is very powerful and consumes very little power. Works between 3.5-5 Volts, this rotary gun has a fixed stroke length of 3.5 mm. The full pack includes a grip, a power cord, and two needle cartridges. Surprisingly the machine weighs only 100 grams with the grip. Depending on the budget this might be a perfect choice for starting.
Features
Can be used for up to 8 hours without overheating
10 wrap coil for shader and wrap coil for liner
Reduced skin damage
---
Recommended Brand
If someone asks 'What is the best tattoo machine brand', no one can answer that. Everyone has his/her own requirements and choices. Personally, I picked up my top three based on different parameters.
The overall best brand would be Dragonhawk. Amazon's best-seller, as well as the highest-rated brand Dragonhawk, has a wide range of machines and accessories. Anyone from beginners to professionals loves this brand like nothing else. Easy to use and very much affordable. Because of these reasons, anyone would choose this one without hesitation.
For someone with no budget limit, the best choice would be Bishop. This is the brand anyone can rely on without any second thought. If considered from a quality point of view no other brand can come near Bishop. So this would be the first pick for anyone who has a deep pocket.
If you are a professional but you don't want to spend much like Bishop but you want a machine according to your need Borg can be the best option for you. The fully hand-made machines will be made according to your requirement and you can say you have just the piece of machine you need.
---
F.A.Q
What is the best brand for rotary tattoo machines?
If you ignore the expense, Bishop is the best rotary tattoo machine brand. If you are asking for an overall good brand, it would be the Dragonhawk.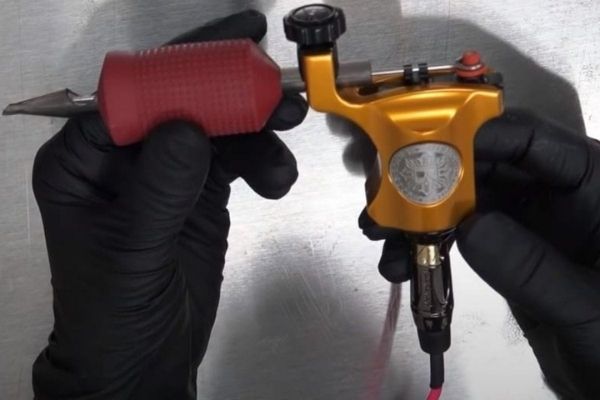 What is the best brand for coil tattoo machines?
The best one would be the Dragonhawk Coil tattoo machine. They are made with a CNC-cut billet brass frame and come with good tuning. We have a detailed explanation here.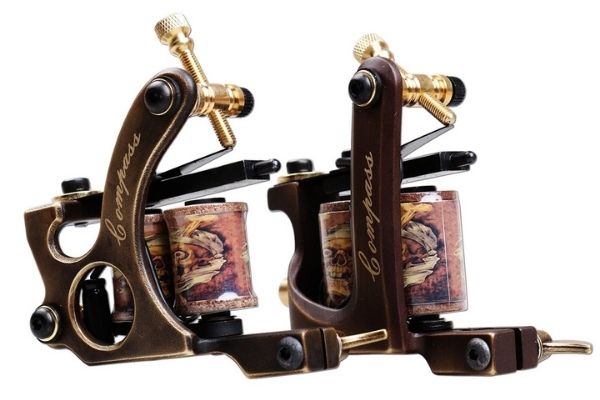 What makes Cheyenne a top tattoo machine brand?
Cheyenne is known for its precision and reliability. Their machines are versatile and suitable for various tattooing styles, including lining, shading, and coloring. They are also highly regarded for their safety features and ergonomic designs.
Why is Bishop Rotary considered one of the top tattoo machine brands?
Cheyenne is known for its precision and reliability. Their machines are versatile and suitable for various tattooing styles, including lining, shading, and coloring. They are also highly regarded for their safety features and ergonomic designs.
Why is Bishop Rotary considered one of the top tattoo machine brands?
Bishop Rotary is favored by many tattoo artists due to its lightweight and low-vibration machines. They offer excellent control and are known for their consistent performance, making them a top choice for professionals.
What factors should I consider when choosing a tattoo machine brand?
When selecting a tattoo machine brand, consider factors such as your skill level, preferred tattooing style, budget, and the features offered by the brand. It's essential to choose a brand that aligns with your needs and goals as a tattoo artist.
Where can I purchase tattoo machines from these top brands?
You can find tattoo machines from these top brands at reputable tattoo supply stores, online retailers, and directly from the brand's official websites. Ensure you buy from trusted sources to guarantee the authenticity and quality of the product. I personally prefer Amazon.
Are there any warranties or guarantees associated with these tattoo machine brands?
Many top tattoo machine brands offer warranties or guarantees on their products. The specific terms and duration of these warranties can vary, so it's advisable to check with the manufacturer or the retailer where you purchased the machine for details.
How can I ensure the longevity of my tattoo machine?
To extend the life of your tattoo machine, clean and sterilize it regularly, follow the manufacturer's maintenance instructions, and avoid dropping or mishandling the equipment. Proper care and maintenance will help your machine perform at its best for years to come.