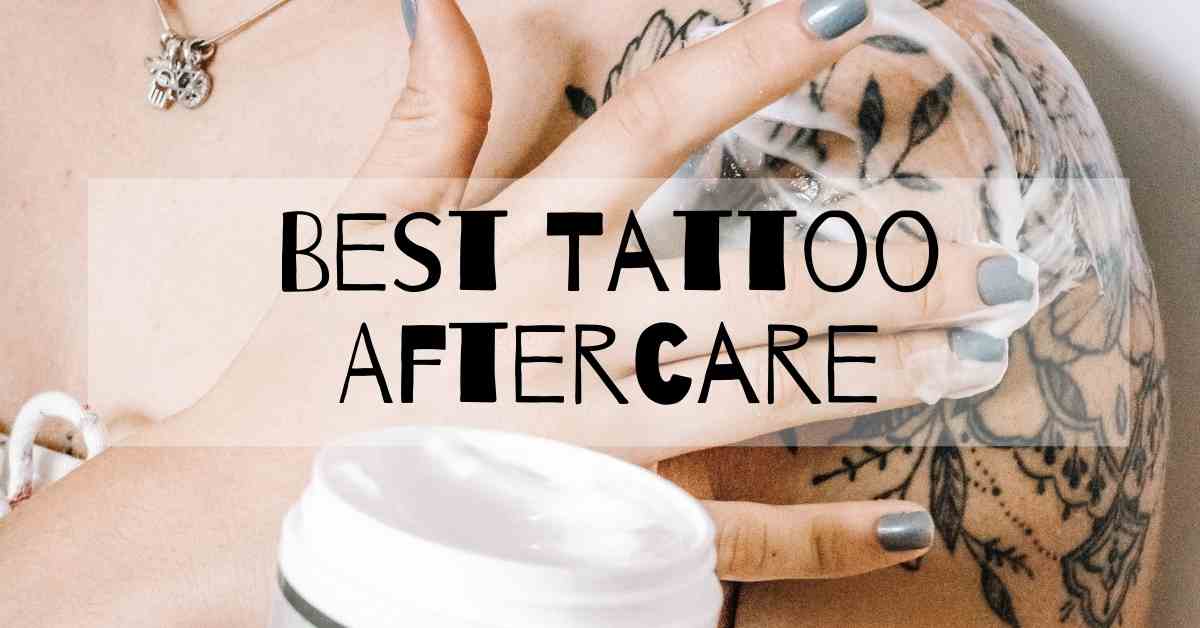 Getting a tattoo is a painful journey that only a few choose. But what is the point of enduring the pain if you can't retain the piece of art on the skin? If you have a tattoo already you know the first thing your tattoo artist will suggest to you are the best aftercare products possible. But often these aftercare products are used in the wrong way and result in a faded tattoo or in serious cases, a skin infection. And that skin infection is the last thing you would want with your tattoo. That's why choosing the best aftercare product properly and using those is a crucial part of tattoo aftercare.
Types of tattoo aftercare products and usage
There are so many different types of products available that anyone can easily get confused. As everyone wants to make their way in this huge industry they provide different products with unique selling points. To get you out of that wrong decision just remember the following table and that's all you need.
| | | |
| --- | --- | --- |
| Product Type | Time to use | Product Details |
| Ointment | During the primary stage of healing | Can be used during primary healing, and later on in the healing process |
| Balm | More percentage of oil and less water almost similar viscosity as CreamAbsorbed easily like Cream | An almost equal share of oil and water contentLess thick than OintmentAbsorbed easily compared to Ointment and Balm |
| Cream | After the tattoo healing stage | The thickest substance seems like a solid Ointment |
| Moisturizer | After the tattoo healing stage | More percentage of oil and less waterAlmost similar viscosity as CreamAbsorbed easily like Cream |
| Lotion | After the tattoo healing stage | More percentage of water and less oilMost watery compared to othersAbsorbed very quickly |
Usage of tattoo aftercare products
Why aftercare products are important
Remember, a tattoo is nothing but an artistic piece of the wound. You have to take special care of it for your own health issues. Without that care, you can face serious difficulties like dripping tattoos, faded tattoos, etc. If you consider health issues those are itching, scabbing even skin infection. So it is a must to put some effort into the aftercare of your tattoo. The tattoo parlor will cover the freshly done tattoo with a bandage. It will be discarded after a few hours and then your skin gets to the most vulnerable stage. As soon as you get rid of the bandage wash the tattoo area with antibacterial soap and put on a thin layer of ointment or balm. Be very careful not to clog the pores of the healing which will delay the healing process. You have to continue this practice for the first 7-10 days. After the tattoo area is healed lotion or moisturizer are used. It takes about four to six weeks to heal a tattoo.
In between the worst thing you can do is letting it dry out. Even dermatologists strictly suggest keeping the tattoo hydrated. This reduced the risk of scabbing as well as the ink leaking or the 'Oozing tattoo'. After all these, there should be none to ignore the aftercare of tattoos. Rather investment in aftercare will help you to keep this lifelong partner more vibrant.
The best products of their type:
1. Ointment:
They are skincare products that a like a thick gel-like substance. It has a greater share of oil and thus it is greasy to skin. Because of this reason, it is absorbed very slowly in the skin. It works greatly for holding moisture. Also, it plays a role in preventing skin infection as it works as a barrier to the skin. Therefore, ointment is used on the freshly made tattoo. But the important note here is, that the skin needs Oxygen to heal. The skin barrier property of ointment closes the damaged or broken skin. That's why the oxygen cannot pass through. So one thing must be remembered, a very thin layer of ointment should be applied on the skin.
1.1 A+D Ointment and Skin Protectant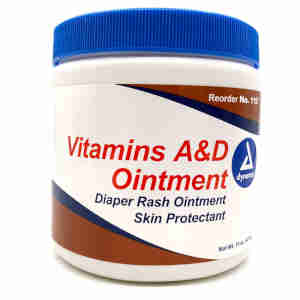 A+D Ointment and Skin Protectant is one of the brightest products in the aftercare range. It is not only used in tattoo aftercare but also for minor skin cuts and other problems. It contains vitamins A and D and for this reason, it surpassed the other medicated ointments. The cod liver oil, sourcing the vitamins made this unique. Moreover, Lanolin is the component that keeps the skin soft and the petroleum creates a barrier on the wound.
Positives:
The components are well-balanced
Prevents skin infection
Great performance at a low price
Negatives:
Complaints about scabbing
Some people want to avoid Petroleum
Greasy substance
1.2 Aquaphor Advanced Therapy Healing Ointment

Aquaphor is one of the great products available for this purpose. Balanced formula having no fragrance and dye keeps it gentle on the skin. This ointment is very popular among dermatologists and Medicare people. Also, this multi-purpose cream helps to cure cracked heels, minor burns and cuts, and dry lips. Overall Aquaphor is an all-around healer.
Positives:
Amazon's #1 tattoo ointment
Great healing power
Additional healing other than tattoos
Negatives:
Greasy feeling
Not absorbed easily
May have a breakout
1.3 INK-EEZE Green Glide Botanical Extract Aftercare Tattoo Ointment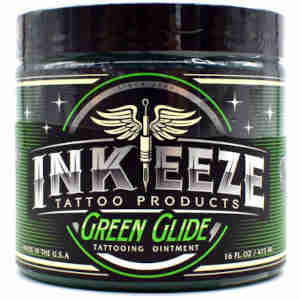 INK-EEZE is a rising product in the aftercare industry. Without being a medicated product, it was developed by the renowned tattoo artists of the industry. The botanical extract formula produced in the USA is cruelty-free. The components like cucumber, carrot, and cranberry hydrate the skin as well as keep the moisture locked. The unique property of this aftercare is it can be used during making the tattoo and even at the initial stages of recovery. The ingredients of the product make the needle penetrate the skin more easily. As it contains green tea and other natural components, the healing process is greatly enhanced. It prevents the skin from damaging and also helps with itching and shedding.
Positives:
Can be used during and after tattooing
Great healing power
Fully natural botanical formulation
Negatives:
Large container for small tattoos
Greasy substance and can stain clothes
Can be on a bit expensive side
---
2. Balm
Think about a product that is thicker than the ointment and is in a solid state. Yes, that makes a balm. Oil or beeswax is used as the base compound of the product there is only a little or no water in a balm. For this reason, balms are solid in a normal state. The use of balm is the same as ointments but with extra merit. Balms that are petroleum-based are the same as ointment and should be applied in a thin layer. This inhibits the oxygen from getting to the skin. On the other hand, balms that have a more natural base like coconut oil or beeswax will let the oxygen enter through the layer. Lastly one can easily say balms are just ointments with one extra feather on the crown.
2.1 Fisticuff's Tattoo Balm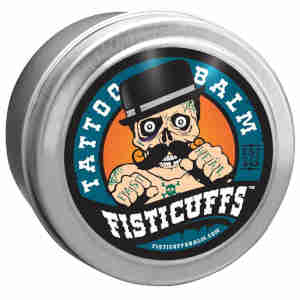 If you are looking for a product that fulfills the perfect balm criteria Fisticuff's Tattoo Balm would be that. It has a really good healing power. Firstly, it takes care of swelling, cracking, and skin infection by fighting the bacteria. Secondly, they don't use a petroleum base. Rather a range of natural components is used in the formulation. Lastly, the anti-inflammatory and anti-microbial properties incorporated in this product make it out of reach of others. Having said that, this is the most appreciated balm in the industry as the artists love it. Not to mention, after the initial healing period ends, the use of this balm keeps the color of the tattoo in the best condition.
Positives:
Speed healing
Keeps the skin color bright
Less itching and swelling
Negatives:
The natural scent is not liked by all
Can have complication on Super sensitive skin
2.2 Skinfix Inked Tattoo Balm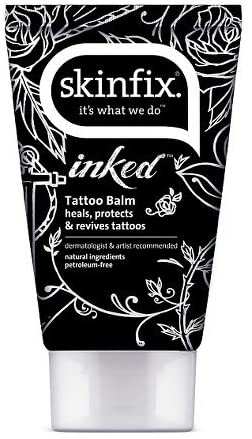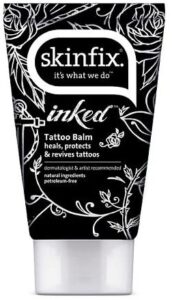 The Canadian brand Skinfix is another favorite of the artists and dermatologists. Almost made of natural products, this one avoided petroleum, and lanolin and even has no scent. Moreover, it used rich natural components such as vegetable oil as the base and shea butter, jojoba, etc. Because of avoiding petroleum, it is absorbed quicker than others. It prevents skin infection and also makes the skin soft to ensure fast healing. Lastly, it is not only used in the initial healing stage but can be used later as well.
Positives:
A natural formula that is easy on the skin
Less irritation and complication in the recovery
Scent-free
Negatives:
A bit on the expensive side
Complaints about performance
2.3 Viking Revolution Tattoo Care Balm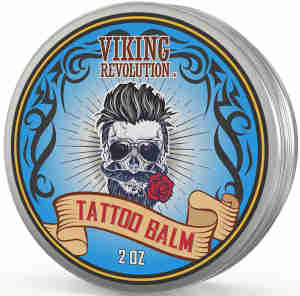 Viking Revolution is well known for its beard-growing products. But tattoo aftercare products are taking the market very quickly. Soon they might climb to the top with their extraordinary product and customer dealing. All-natural product formulation by Viking is not a new approach. Then what makes them so special? You can apply the balm before, during, and after getting the tattoo. The balm makes the skin soft and retains the natural condition if the tattoo area is swollen or itching. Less irritation and less damage to the tattoo is the way it works. Even you can apply the balm on the old tattoos to make it a bit brighter. That's probably offered by the Viking Revolution only. After all, it ends, this brand hits you with a 100% customer satisfaction guarantee. So, you can contact them if you face any complications using their product.
Positives:
Speed recovery
All-natural component
100% satisfaction guarantee
Affordable price
Negatives:
A few people faced a rash
No ingredient list
---
3. Cream
Creams are half oil and half water containing aftercare products. But not to use in the initial healing stage. Creams have a consistency like regular moisturizer so it is absorbed quickly than ointment or balm. Because of this, they are not the best defense against bacteria to fight infection. Rather they hold the moisture and hydration of the skin and keep the color bright. As they are easily spreadable on the tattoo, creams are used on the large area that is covered in tattoo-like hands and back.
3.1 H2Ocean Tattoo Aftercare Cream

H2Ocean Tattoo Aftercare Cream is an all-round product in the aftercare industry. It has a totally different approach to the substance which is foam. This foam product is based on water, so absorbed quickly. Also, it creates a barrier between bacteria and other pathogens. Moreover, it locks the color of the tattoo and nourishes the skin. Because of this, it is also used on old tattoos. The pharmaceutical-grade product uses anti-inflammatory and anti-microbial properties in the cream or foam whatever you say. Thus it makes a perfect tattoo aftercare product.
Positives:
Pharmaceutical grade components
Speeds up the healing process
Keeps the color of the tattoo intact
Negatives:
Contains Parabens
Few had skin irritation
Somewhat expensive
3.2 Hustle Butter Deluxe Tattoo Butter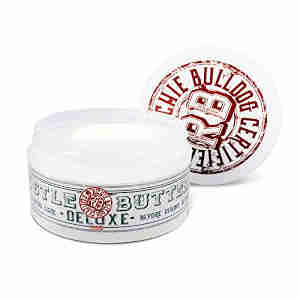 If you are looking for overall skincare made for tattoos, don't go anywhere. Hustle Butter Deluxe is the solution for all the problems inside one tub. It is made for use before, during, and after making a tattoo. It is the best replacement for petroleum-based ointment cream or balm as it does the work of all.
However, the formulation components of this are just above anything. Aloe butter, organic shea, green tea, mango, vitamin E complex, Sunflower oil, rice bran oil, Rosemary Oleoresin, organic coconut, mint parvenus essential oil with the essence of papaya, and coconut inside a tub, and who wants anything else? Also, it does not clog the pores of the skin as other petroleum-based products do. After that, it has a cooling effect on the skin to reduce itchiness. Then, it speeds up the healing process taking care of the swelling of the tattoo area, and redness. Moreover, it reduces scabbing as much as possible. That is another reason why anyone would love it. And finally, it doesn't hamper the stencils a bit. Preserves the color along with moisture. In a nutshell, it is the best thing for the overall process not specialized on a certain stage.
Positives:
Used by professional artists before and during tattooing
Reduces swelling and redness
All-natural formula
Can be used for minor cuts and others
Negatives:
Can create allergic problems
A greasy product that can make stains on clothes
More expensive compared to other similar products
3.3 Redemption Tattoo Care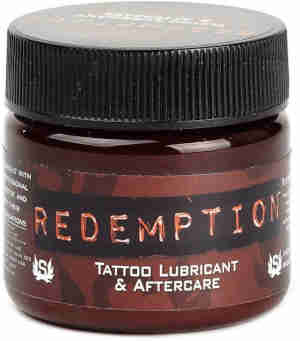 Redemption Tattoo Care is one of the rising products that is liked by users very much. It is one of Amazon's Choice products. It has a very high rating and also comes at an affordable price. Though the cream/ ointment can feel like petroleum-based products, it is a natural formulation. This amazing tub contains organic Castor Oil, Organic Sunflower Oil, Organic Beeswax, Organic Cocoa butter, Organic Coconut oil, organic vegetable glycerin, organic Arrowroot powder, organic Calendula oil, Organic Arnica, Organic Chamomile extract, organic rosemary extract, and Mixed Tocopherols. That's why it keeps the tattoo healthy with the ink in its place also the surrounding area. Finally, this product works as a barrier like an ointment and keeps skin safe from infection.
Positives:
Quick recovery
Less itching and scabbing
Highly recommended by users
Negatives:
Required in a more than usual amount
Expensive compared to others
---
4. Moisturizer
Most people face difficulties differentiating moisturizer from lotion. Well, moisturizers are thicker compared to lotions which have a bigger portion of oil than lotion. Also, it is absorbed at a slower rate. Because of this moisturizers can retain the moisture for a longer time. One of the best things moisturizers help against is the grave mistake that is not allowed to do after having a tattoo, 'Drying out the tattoo'. Whenever the skin gets dry near the tattooed area, just put on some moisturizer and that's what it is needed for. It also reduces the itchiness of the tattoo while recovering.
4.1 Unedited Tattoo Moisturiser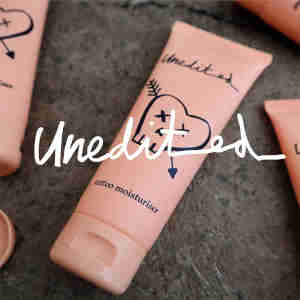 If there is a competition between the moisturizers for tattoos unedited is going to win leaving everything else far behind. This is a moisturizer that has the base of coconut oil. It also heals the skin rapidly. Because of the coconut oil skin can breathe oxygen as well. It is not greasy, absorbed quickly. All the natural ingredient makes it a great choice in the moisturizer section.
Positives:
All natural ingredients
Speed up healing
Great for moisturizing
Negatives:
Expensive compared to similar products
Customers complained about being too thick and not absorbing.
4.2 Malibu Tan Hemp Tattoo Enhancing Body Moisturizer
Although new to the market this moisturizer is being taken positively by the users. The product makes tattoos look more sharp and bright. Made of shea butter, aloe, silicones, and hemp seed oil (naturally free of THC) it creates a highly effective hydration barrier. This Tan Hemp thus works as a great natural moisturizer with all the natural components. This product comes in a great packing with 18 fluid ounce bottle and a dispenser pump which makes it very handy to use.
Positives:
Natural formulation
Makes tattoo brighter and sharper
Great handy bottle to use
Negatives:
Aloe can create problems for tattoos sometimes
Not a renowned brand
4.3 Lubriderm Daily Moisture Lotion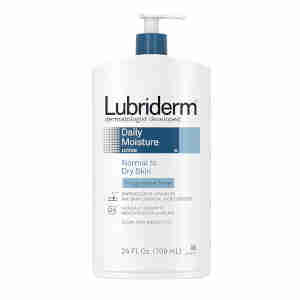 If you are not so concerned about any tattoo-specialized moisturizer then Lubriderm might be the best choice for you. Not a tattoo specialist but it is used by many who have one or more tattoos. This moisturizer is a daily lotion for any kind of skin and is preferred by dermatologists. It has Glycerin in it which keeps the skin moisture intact. Moreover, vitamin B5 is another component that promotes healing and quicker healing is obtained.
Another plus point is, that it is absorbed quickly on the skin which makes people comfortable. Not to think about the staining on the cloth. Also, the moisturizer is affordable for anyone as the price is very cheap. It keeps the skin smooth and soft as well. On the contrary, people can point out one major fact which is that Lubriderm contains mineral oil. Some argue on this fact that mineral oil might be harmful to the skin. While they might have logic to argue anti-logic is also there. If you don't mind having mineral oil in your moisturizer Lubriderm can be a knight in shining armor.
Positives:
Smooth and soft skin appearance
Very affordable
Quickly absorbed in the skin
Negatives:
Contains mineral oil
Not tattoo specialized
---
5. Lotion
The lotion is a kind of aftercare that has more water content than oil, compared to moisturizers. It can be spread easily as the lotion is very watery. They are also cheaper compared to other type of aftercare products. However, they keep the skin hydrated and make it soft. Lotions can be applied right after the tattoo stops 'weeping' which means leaking ink. As soon as the pores made by the needles are closed, lotion can be the preferred aftercare product as it is both cost-effective and gets absorbed very quickly. This reduces irritation of the greasy texture.
5.1 After Inked Tattoo Moisturizer & Aftercare Lotion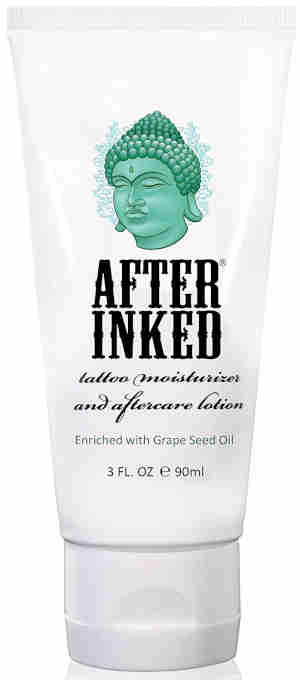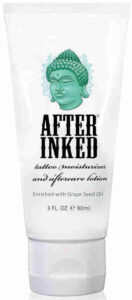 If anyone is asked about a prominent brand and product in the tattoo or piercing industry the first name that would come up is After Inked. They make a regular moisturizing lotion for fresh or old tattoos. The brand has some outstanding points to make it to the top. It is one of the highly recommended products on Amazon. The reasons would be, firstly, it is a totally natural product with a 100% vegan formula. It's petroleum-free, paraben-free, gluten-free, and cruelty-free. Secondly, they are clinically tested for skin type meaning people with sensitive skin don't have to scroll more. You have got the best product available in the market.
Moreover, it is highly recommended by world-famous artists. Having said all this, one unique point that makes this stand out is, that if anyone does a laser tattoo removal he/she can use this product as well. This property is the specialty of After Inked. Natural ingredients like shea butter, beeswax, jojoba, orange, and grape seed oils make a subtle natural scent that is liked by most. Although users reported a sting feeling when applied on the fresh tattoo After Inked is a standout lotion in the aftercare market.
Positives:
100% vegan composition
Very good moisturizer without being thick or greasy
Spread easily and absorbed quickly
Pleasant and subtle natural aroma
Negatives:
Many customers reported skin complications like rashes etc.
Can increase scabbing
Can sting on freshly done tattoo
5.2 Aveeno Daily Moisturizing Lotion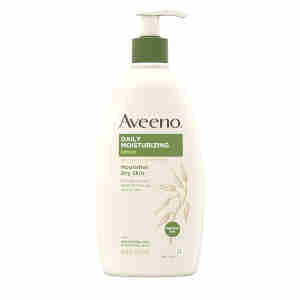 When it comes to using a natural but totally different component Aveeno is the lone ranger. Colloidal oats are what they use in their lotion which is a prime ingredient to lock the moisture. It is not specialized for tattoos but the lotion keeps the skin hydrated for long and also makes the skin rejuvenate. This enhances the natural property of retaining moisture. Also, the scent-free character is preferred by most. Aveeno keeps the tattoo hydrated as well it makes the skin soft and nourishes it. Highly recommended by dermatologists this is a gem in the aftercare industry.
Positives:
Very affordable price
Natural colloidal oat-based
Can be used on tattoos as well as a daily lotion
Negatives:
Contains more oil compared to others
Not tattoo specialized
5.3 Tattoo Goo The Lotion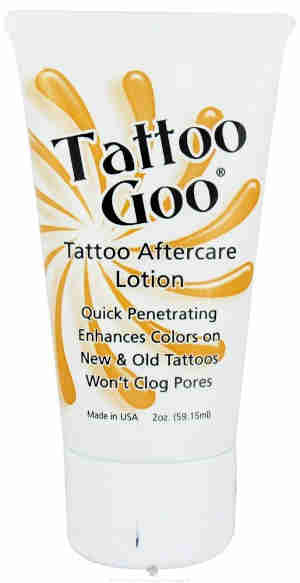 Tattoo Goo is a popular name in the tattoo industry as many of the artists recommend this product. This is one of the highly-rated products with a wide range of customer satisfaction. However, they have a fan base because of the performance they show on colors. Most people have found this helpful in black, grey, and different colors. They penetrate deep into the skin and improve skin quality. Moreover, the clinically approved lotion has a fine consistency to apply and get absorbed. The natural formulation is very light on the skin and has no side effects. Cocoa butter and olive oil are the ingredients, it is totally petroleum-free, and lanolin-free.
Positives:
Natural formulation which is very easy on the skin
Works greatly on the tattoo colors
Pleasant and mild scent
Negatives:
Gets expensive for large tattoos
Might face problems with sensitive skin
---
6. Tattoo Aftercare Kit
Aftercare kits are a perfect set with all the products needed. Different brands include different products though. One aftercare kit is enough to take care of the tattoo. It can contain ointment, moisturizer, balm, and cleanser. Though tattoo artists prefer to use particular products of a particular brand, these kits are gaining popularity in the market recently.
6.1 Billy Jealousy Marked IV Life Tattoo Care Kit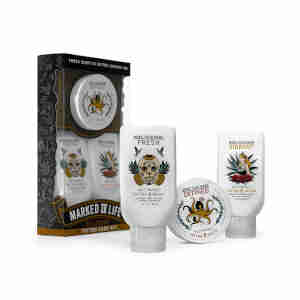 This aftercare kit contains a tattoo cleanser, a tattoo lotion, and a tattoo salve. The cleanser is one of the best available in the market. It helps to get rid of the extra oil of the skin, dirt, and dead skin cells. The salve and lotion both are comprised of natural ingredients. Cucumber extract works to retain the color of the tattoo and also helps the skin to keep moisture. It enhances the vibrant colors of the tattoos. Glycolic AHA and papaya extract help the skin to refresh and rejuvenate. They polish the tattoo colors. Essential oils and shea butter included in the lotion make the skin lively and soft. Also, makes the tattoos look bright. The green tea leaf extract contains an anti-oxidant that is one of the essential ingredients to keep the skin healthy and shield it from free radicals.
Positives:
Doesn't clog the pores
Keeps the tattoo bright and clean
Polishes and exfoliates the skin
Negatives:
A single product of the kit is not available
A bit expensive
6.2 Nat-A-Tat2 Tattoo Care Kit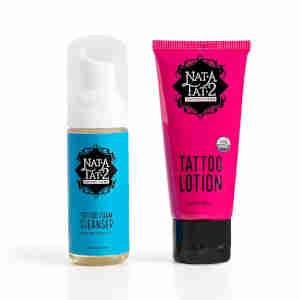 What can you ask for when you get a certified natural and 100% vegan tattoo care kit? This kit includes a foam tattoo cleanser, tattoo lotion, and a tattoo balm. Also, as a little gift, you'll get a mint-flavored chapstick. The foam wash is a great cleanser that helps to get the unwanted dirt and dust cleaned out from the tattoo. Helps to reduce the pressure on the skin of the freshly done tattoo because of the foam form. The lotion is another great one with a natural substance. It has a cooling effect that relieves you from the itchiness during the healing process.
The balm of this kit is another desirable one. It has shea butter and Vitamin E which keeps the skin nourished and moisturized. The coconut oil and castor oil make the color of the tattoo bright. Finally, the best part of this kit is that each product is available individually if anyone wants only one or two of it.
Positives:
Certified natural and vegan
Works very well on tattoo colors
Does both the healing and moisturizing
Negatives:
Cleanser can sting on fresh tattoo
Full kit might be a bit expensive
---
7. Additional Aftercare
These are not a crying need for an art piece on your body, rather they can support longevity and enable great maintenance of your tattoos for the rest of your life.
7.1 Ed Hardy Get Ripped Cooling Bronzer Tattoo Fade Protection Tanning Lotion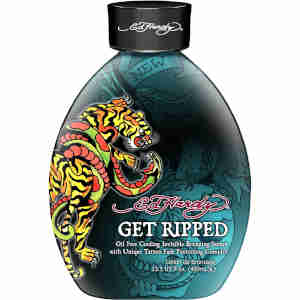 This product from Tanovations is a wonder and lone-standing aftercare. This is an oil-free serum that stimulates tyrosine activity and prevents the fading of the tattoo. The vibrant tattoo is maintained properly without any design hampering. Also, the cooling technology keeps the skin protected from irritation. The serum makes the tattoo stay longer, pops the colors, and maintains healthy skin. Overall, it is worth investing products in the aftercare category.
Positives:
Prevents the tattoo from fading
Enhances elasticity of the skin
Cooling effects reduce skin irritation
Negatives:
Masculine scent
Might seem extra costing for aftercare
7.2 INK Tattoo Brighter Balm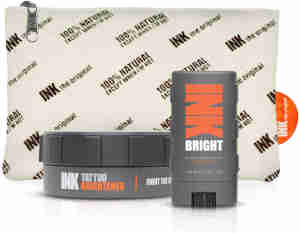 It is another standalone product in the aftercare that might be the exact one you need. This balm from INK The Original brand is an instant tattoo-brightening product. How about just improving the detailing and color of your tattoo before going somewhere else? However, it has vitamin C in it which makes the skin healthy. As a result, the skin exfoliates more. But that's not the limit for this. It works as an organic moisturizer and contains an anti-oxidant. So, the skin gets the perfect blend of nutrition it needs. Finally, this is a toxin-free, and cruel product.
Positives:
Instant brightening
Balanced organic ingredients
Helps the skin to retain natural condition
Negatives:
Might seem expensive
Fragrance might be bothering
---
FAQs
Well, the debate about tattoo aftercare products has been going on for quite a while now! These are the common questions that are often asked.
Which are the products I must buy for aftercare?
There are no such guidelines for the most needed products. However, during the initial stage, any product that will heal the skin as well as save it from infection has to be used. Try finding one that suits your skin by applying any place other than the tattoo. After that, any product for long-term maintenance should be used.
Is there any extra advantage of tattoo-specialized products?
Regular moisturizers or ointments are not specialized for any specific purpose. So they can be used in any case. But recently the tattoo specialized products are including ingredients that keep the tattoo in a very good condition for a long time. So there might be some advantages of tattoo-specific aftercare but it is debatable.
What substances or ingredients should be avoided?
Some of the ingredients might seem harmless for the skin but they can be a nightmare for freshly done tattoos. They can leak the ink or further damage the damaged skin where a tattoo is done. These ingredients should be avoided after having a fresh tattoo.
• Alcohol
• Aloe
• Baby Oil
• Bag Balm
• Mineral Oil
• Neosporin
• Noxzema
• Peroxide
• Vaseline
• Vitamin E
What are the common mistakes made after having a fresh tattoo?
When a tattoo is done, your skin is damaged to some great extent. So it should be taken care of as well as the ink or tattoo should be considered sensitive. Some small mistakes can just discard the ink or permanently damage the tattoo. Some of those are:
• Submerging your tattoo in water
• Stretching the skin or underlying muscles via exercise
• Wearing skin-tight clothing over your tattoo
• Scratching, rubbing, or picking at your new tattoo
• Spending too much time in direct sunlight