If you're eager to start learning tattooing techniques as a complete novice, purchasing the "Best Tattoo Kit for Beginners" is a crucial first step. With the array of machines, essential Kits & supplies on the market, finding a quality starter kit can feel overwhelming. This go-to guide will provide everything a newbie needs to know about choosing the best tattoo kit for beginners.
Getting Started with Tattooing as a Beginners
Tattooing is an intricate art and craft that takes considerable time and dedication to master. That said, with the right introductory tattoo kit, even a total beginner can start grasping the fundamentals of professional tattooing in a safe, responsible way. Beginner tattoo kits allow you to gain experience with needle techniques, line work, shading, and more using practice materials before ever attempting human skin. Having the proper starter equipment enables aspiring artists to develop core skills on their own schedule.
What to Look for in a Beginners Tattoo Kit?
A tattoo kit is a collection of tools and equipment used by tattoo artists to create tattoos on a person's skin. When evaluating entry-level tattoo kits for novices, there are five components that indicate a high-quality setup:
Complete Starter Equipment
Look for a kit that contains all the basic equipment needed so you can begin practicing right away. This includes at minimum: a tattoo machine, power supply, needles, grips, ink, and synthetic skin.
Adjustable Machine
Having a machine with some interchangeable parts allows you to experiment as a beginner finding your ideal setup. Look for adjustment capabilities to fine-tune technique.
Educational Resources
The best beginner kits include access to video tutorials, eBooks, online courses or other instructional tools to supplement hands-on practice. Learning proper methods from the start is crucial.
Durable Construction
Pay attention to the craftsmanship and materials used, especially for the machine, power supply, needles, and grips. Avoid kits with cheap plastic components prone to breaking.
Budget Price Point
As an amateur, you don't need the most advanced professional gear costing thousands. Look for affordably priced kits from $50 to $200 to get started.
Must-Have Components in a Beginners Tattoo Kit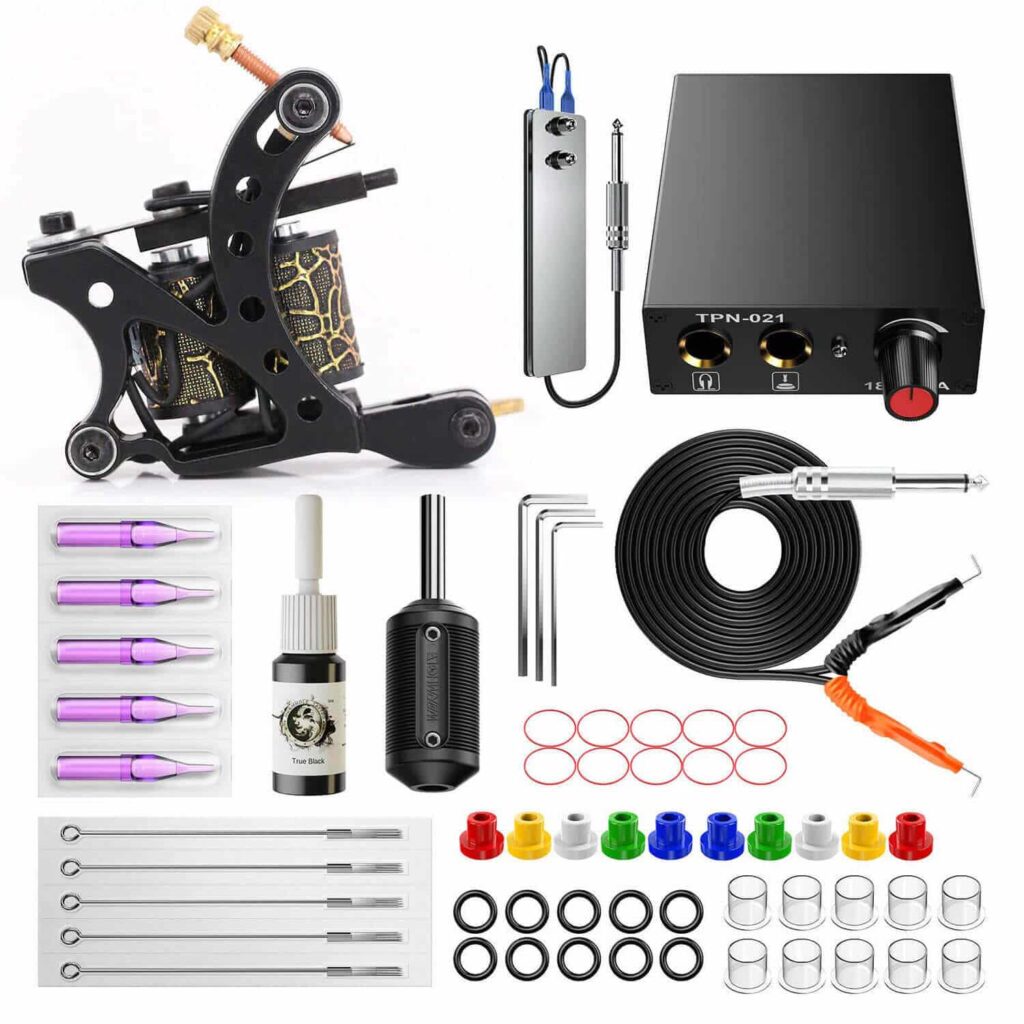 Here are the core supplies every introductory tattoo kit needs:
Tattoo Machine: Go with an adjustable tattoo machine at first. Both coil and rotary machine buying guides are covered in these articles – I) rotary tattoo machine for beginners II) Coil tattoo machines
Power Supply: Ensure it offers adjustable voltage/speed.
Assorted Needles: You'll need liners and shaders to practice.
Grips: Disposable rubber grips work for beginners.
Tattoo Inks: Start with 2-4oz of basic black, red, blue, etc.
Practice Skin: High-quality synthetic skin.
Tubes: Sterilized disposable ink tubes.
Stencils: Simple designs help master line work.
Medical Supplies: Nitrile gloves, disinfectant, towels, etc.
The Best Beginner Tattoo Kits for Novices
Based on overall value and quality, these starter tattoo kits rise to the top: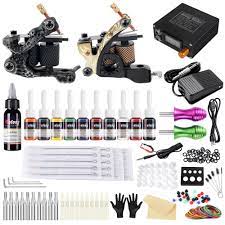 Key Features:
User-friendly
Comes with a practice skin
Reliable power supply
The Dragonhawk Tattoo Kit is an excellent choice for beginners. It's designed for ease of use and includes all the essential components. The practice skin allows you to refine your skills before working with real clients.
Solong Complete Tattoo Kit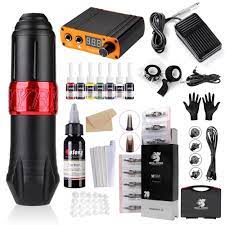 Key Features:
Comprehensive kit with a variety of needles
Digital power supply for precision
Sterilized and individually packaged needles
Solong's Complete Starter Kit is perfect for those looking to explore different tattooing styles. With sterilized needles and a digital power supply, it's a safe and versatile option.
Hildbrandt Tattoo Kit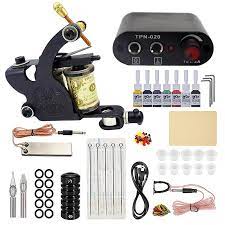 Key Features:
High-quality components
Educational DVD included
Designed for both beginners and professionals
Hildbrandt's Tattoo Kit offers top-notch quality and comes with an educational DVD to guide you through the tattooing process. It's suitable for beginners and those aspiring to become professional tattoo artists.
Stigma Rotary Tattoo Kit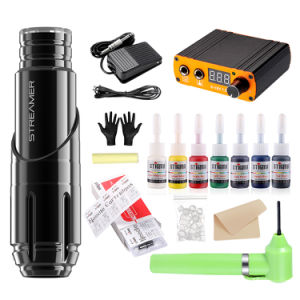 Key Features:
Premium rotary tattoo machine
Adjustable needle depth
Ideal for fine details
If you're interested in fine details and precision work, the Stigma Rotary Tattoo Kit is a superb choice. Its premium rotary machine and adjustable needle depth make it a favorite among experienced artists and beginners alike.
Lamel Complete Tattoo Kit
Budget-friendly basic kit with access to online video courses for guidance.
Mast Complete Tattoo Kit
Sturdy aluminum alloy machine and digital power supply plus bonus eBook.
Grinder Complete Tattoo Kit
Portable rotary machine kit with foot pedal, precision power supply, and online classes.
Costs of Beginner Tattoo Kits
Beginner tattoo kits vary in price:
Budget kits: $50 – $100
Mid-range kits: $100 – $150
Premium kits: $150 – $200
Professional kits: $200+ (overkill for newbies)
Factor in costs for supplies like needles, grips, and inks which will need to be replenished over time. Proper sanitation and disinfection products will be an ongoing expense as well.
Tips for Picking the Right Beginner Tattoo Kit
Follow these tips when evaluating starter tattoo kits:
Read reviews online and look for kits with overall 4+ star ratings.
Ensure all core components are included, not sold separately.
Study product details closely for type of machine, power supply, needle quality, etc.
Look for kits that come with instructional eBooks, DVDs, or online course access.
Start with a basic coil tattoo machine, not a more advanced rotary or pen-style machine.
Make sure needles come pre-sterilized in sealed packaging.
Avoid dirt cheap kits with questionable craftsmanship and materials.
Select a kit from a supplier that provides a satisfaction guarantee.
FAQs for Best Tattoo Kit for Beginners
Is it necessary to start with a kit, or can I buy individual components?
You can buy individual components, but starting with a kit is recommended for beginners. Kits are carefully curated to ensure you have all the essential items to get started.
How can I ensure the safety of my clients?
To ensure your clients' safety, always use sterile needles, practice proper hygiene, and follow local health regulations. Consider enrolling in a bloodborne pathogen certification course.
Can I upgrade my kit as I advance in my skills?
Absolutely. As you gain more experience and expertise, you can upgrade individual components of your kit to meet your evolving needs.
How long does it take to become a proficient tattoo artist?
The time it takes to become proficient varies from person to person. Dedication, practice, and continuous learning are key to success.
What is the ideal budget for a beginner's tattoo kit?
Beginner kits range in price. It's possible to find a quality kit for as low as $100, but investing more can offer better quality and a more comfortable learning experience.
Starting Your Tattoo Journey Responsibly
With the right artistic drive and proper training, a beginner tattoo kit can be the start of an amazing creative journey. But take care to gain experience the safe and responsible way. Follow kit instructions closely, practice on synthetic materials first, take precautions using sterilized equipment, and build real skill before attempting human skin. A quality starter kit is step one – combine that with drive, dedication and safety practices and you'll be on your way to becoming a talented tattoo artist.